PRIVATE LESSONS
Private Lessons offer a student additional training time to focus on a specific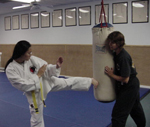 skill or skills, review for a test, or prepare for tournament competition on a serious one-on-one or two-on-one session. These lessons are also beneficial for the parent who doesn't wish to attend regular ISMA adult classes, but who wants to train periodically with their child in effort to help them practice at home.
Private lessons are offered on an as needed schedule with time, day, and location subject to agreement between instructor and student.
1:1 private - $45 per person per half hour ($5 cash discount).
2:1 private - $30 per person per half hour. To participate in the 2:1 private, you must locate the second ISMA student to share the lesson time. Students in 2:1 privates do not need to be of the same rank.
1:1 "test prep" lesson - $90 per person per hour ($10 cash discount). Lesson conducted as a condensed "mock test" to help the student mentally and physically prepare for an upcoming belt test.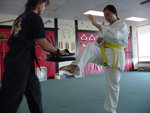 Private lessons are open to anyone with a current AAU membership and who are in good standing with ISMA. All payments for private lessons must be made at the time of the lesson. There is a 24 hour cancellation policy - students who do not show for a private lesson or cancel short of 24 hours will still be required to pay for the lesson time. Students must cancel by calling 972-379-SIFU and leave a message. Students taking 2:1 lessons must coordinate their schedules if canceling. If one student of the 2:1 shows for their lesson and the other is a no-show, the student in attendance will receive the lesson time and the no-show student will still be required to pay for their portion of the lesson.

Private lessons, with the exception of those donated and earned through the ISMA Kick-a-Thon for charity purposes, are not taught within our location facilities and an outside venue must be agreed upon.