PICNICS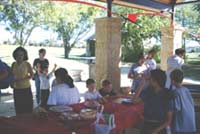 October 14th, 2001 marked the date of ISMA's first picnic, an event that we intend to make an annual one.
The event kicked off at 2 p.m. on the grounds of the beautiful Arbor Hills Nature Preserve. ISMA students and Shui Huo AISD members, their families, and guests came from all around the area.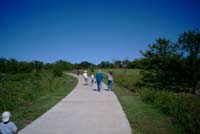 The day was spent with a kickball competition, a "gold coin" treasure hunt, a very strong and stubborn 5 pound candy filled pinata, student martial arts demos, playground and trail activities, and of course, food, family, friends, and fun.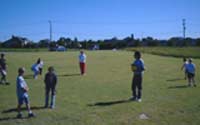 It was perfect picnic weather too, cool and sunshining. The sun made the "gold" treasure hunt coins glisten in the light. Some coins were easy to find, some hard, and...
...if you go out to Arbor Hills you might be able to find some that we left behind...