ISMA Home Page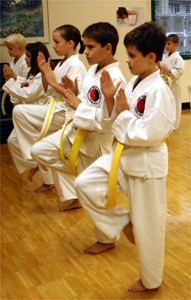 Inner Strength Martial Arts
KICK-A-THON
Started in 2002, ISMA Students have been participating annually each October to increase their own skills as they raise money - previously for the "ISMA Scholarship Fund" (dissolved in 2013) and today for our annual 501(c)3 elect charity of the event.
The Kick-a-Thon is an in-class event in which all students are required to participate. The training purpose of the Kick-a-Thon is to increase a student's self-esteem, confidence, and determination to accomplish a set goal.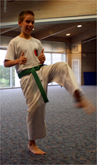 The Kick-a-Thon helps to increase charitable funding for our annual 501(c)3 elect charity of the event with donor checks written directly to the charity if the year. All charities are top rated, 501(c)3 designated with EIN numbers listed on Kick-a-Thon pledge forms, and carefully selected so as to benefit both people and animals. Previous charities have included: Patriot Paws (2013), Toys for Tots (2014), Canine Companions for Independence (2015), K9s for Warriors (2016), Houston SPCA (2017).

Any cash received goes into a separate ISMA fund designated in helping students during less fortunate circumstances. All pledge money collected from the Kick-A-Thon goes directly to aide in the manner listed above. No monies go directly to the student's pocket or ISMA.

The student develops accountability, goal setting, communication, math, safety, listening, and kick skills - while gaining the support and encouragement of others through sponsorship. Students may also win prizes and certificates during this event.