ISMA Home Page
New Student Information
An Open Letter to New Students -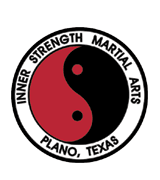 Thank you for your interest in Inner Strength Martial Arts training. As a registered student, I'd like to introduce you to the school and some important information before your first class. Please look over the web site and the new student materials as linked below. If you are under 18 years old, it is extremely important that you share these with your parents too. Log-in information to the Student Area of our web site will be available at class.
All classes of ISMA are conducted as they would be at a free standing martial arts school. ISMA is a complete martial arts school with over 150 students, belt testing, student activities, and a variety of continuing classes offered in Plano and Allen. It is assumed that beginners entering ISMA do so with the intent in studying all aspects of our martial arts styles (age and rank appropriate) with discipline and respect.
Starting quality martial arts training can be a bit overwhelming. Many times beginners feel lost, slow, stiff, sore, and out of balance. These are all normal feelings. As with learning any new skill, it will take patience, drive, effort, and determination to progress. Higher ranked students will attest that the new skills get easier with understanding, persistence, and repetition. When in doubt, feel free to ask for their assistance – ISMA students are always willing to help. When you look at higher ranked students, remember they all started at white belt too. ISMA offers a variety of training from class to class and each student will find skills they pick up quickly and some that take extra effort. These may be different for everyone, so look upon your own accomplishments and try not to judge yourself against others.
The following are 3 items required once you are registered in a class. Please take note of these items accordingly.
ALL ISMA students are required to purchase a school uniform, mouthpiece, and have proper safety gear within the first week of class. ISMA offers discounted new student packages to make this purchase easy. Packages will be available at class the first week of training. Until you purchase a uniform, please wear long athletic (sweat, jogging, etc) pants and a T-shirt to class. All youth and adult students, age 6 and older, are required to bring their mouthpieces to every class and test. Highly recommended for all male students in ISMA - Male youth students (at Yellow Belt sparring level) and all male adult students are required to wear groin protection (cup/supporter) to every class and test. Groin protection is for the student's protection during all contact events (i.e. self defense, weapon sparring, reflexes, shuai chiao, etc.). Male groin protection should be purchased from a local sporting goods store and is not part of the ISMA packages.



ISMA is an Amateur Athletic Union (AAU) school and all students must be current AAU members. The AAU is a non-profit sports organization and membership includes liability and secondary medical insurance. AAU annual memberships (Sept 1st thru Aug 31st) are $16 for youth (20 and under) and $29 for adults as designated by the AAU National office. Adults must pass a background screening by a private third party group through the AAU office and should start their process immediately at aausports.org (contact ISMA for club code and details). Memberships are not prorated and all memberships expire August 31st. Youth members be prepared to join the AAU on your first day of class - for your convenience the AAU membership fee is included in the new student packages.



And last but equally important, an ISMA student profile enrollment form must be completed and returned within the first two weeks of class by all new students. Students under age 18 must have this form signed by a parent and notarized. This profile is for your protection, should an accident or injury occur. Information on this form is for school use only and not allowed to be used by others. Your email address on this form is important to receiving upcoming and timely class information.
You have a lifetime to learn and train in the arts. Have patience, relax, and enjoy the school. If you have any questions, comments, or concerns - please feel free to contact me.
Sifu Bales
972-379-SIFU